Gw lagi terserang demam country!!!!!! setelah gw ngga sengaja denger lagunya
BRAD PRESLEY
- Water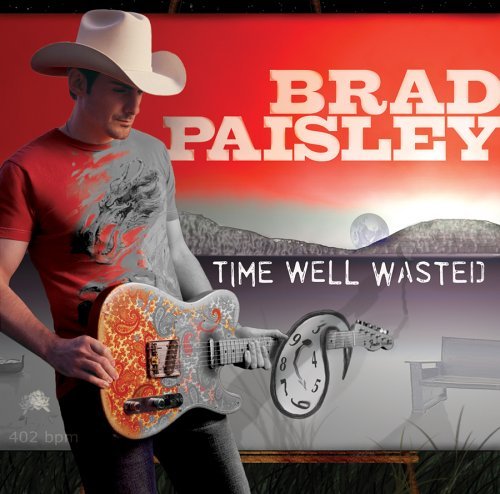 Dengan semangatnya gw download lagu dia, dan jarang banget di Indowebster --' alhasil mesti dari situs luar, dari 5 toko CD yang gw datengin cuman 1 toko CD yang jual album dia "American Saturday Night" di toko sebelah sour sally Taman Anggrek, tadinya udah ngomong "GW BELI KALO KETEMU ALBUMNYA!!!" hahahaha setelah ketemu malah syok ma harga nya yang 170rb --a buset dah kenapa bisa mahal gitu ya???? hiksss akhirnya sampe sekarang belum kebeli deh T_____T
beli...
JANGAN!!
beli....
JANGAN!!
beli...
JANGAN!!!
Beliin donk --'
...........................................................................................................................
Contemporary country singer/songwriter Brad Paisley was born October 28, 1972, in Glen Dale, WV; given his first guitar at age eight, he delivered his first public performance at church two years later. With his 50-something guitar teacher Clarence "Hank" Goddard and two of the older man's seasoned musician buddies, the teenaged Paisley formed his first band, the C-Notes, and at age 12 began writing his own material. After performing in front of the local Rotary Club, he was invited to appear on Wheeling station WWVA's famed Saturday night broadcast
Jamboree USA
. Paisley's debut was so well received that he was invited to join the program full-time, and in the years to follow he opened for the likes of
the Judds
,
Roy Clark
, and
Little Jimmy Dickens
. He later attended Nashville's Belmont University, serving an internship with ASCAP; the contacts Paisley made there helped him land a songwriting deal with EMI, and he also appeared on countless demos. Signing to Arista, he issued his debut solo album,
Who Needs Pictures
, in 1999. The record produced two chart-topping singles in
"He Didn't Have to Be,"
an ode to loving stepfathers, and "We Danced" and also earned generally positive reviews for its diversity of country styles. In the meantime, Paisley recorded a duet with
Chely Wright
, "Hard to Be a Husband, Hard to Be a Wife," for the Backstage at the Grand Ole Opry compilation; the two later collaborated on several songs for Wright's
Never Love You Enough
album. The sequel to Paisley's debut,
Part II
, was released in 2001 and promptly returned him to the Top Five with
"Two People Fell in Love."
"I'm Gonna Miss Her (The Fishin' Song)"
gave Paisley his third chart-topper, and
"Wrapped Around"
fell one spot short of becoming his fourth.
"I Wish You'd Stay"
became the fourth Top Ten hit from the record in early 2003. At the beginning of August 2005, Paisley put together a short "director's commentary" preview of his next album for his fan base to download. The full album,
Time Well Wasted
, appeared two weeks later and narrowly missed the top of the album charts, though it did hit number one on the country charts. In 2006
Brad Paisley Christmas
, a collection of both originals and covers, came out, followed by
5th Gear
in 2007. ~ Steve Huey, All Music Guide
...................................................................................................................................
Brad Peisley - Letter To Me
DOWNLOAD
"Letter To Me"
If I could write a letter to me
And send it back in time to myself at 17
First I'd prove it's me by saying look under your bed
There's a Skoal can and a Playboy no one else would know you hid
And then I'd say I know its tough
When you break up after seven months
And yeah I know you really liked her and it just don't seem fair
All I can say is pain like that is fast and it's rare
[1st Chorus]
And oh you got so much going for you going right
But I know at 17 it's hard to see past Friday night
She wasn't right for you
And still you feel like there's a knife sticking out of your back
And you're wondering if you'll survive
You'll make it through this and you'll see
You're still around to write this letter to me
At the stop sign at Tomlinson and Eighth
Always stop completely don't just tap your brakes
And when you get a date with Bridgett make sure the tank is full
On second thought forget it that one turns out kinda cool
Each and every time you have a fight
Just assume you're wrong and daddy is right
And you should really thank Mrs. Bringman
She spend so much extra time
It's like she sees the diamond underneath
And she's polishing you 'til you shine
[2nd Chorus]
And oh you got so much going for you going right
But I know at 17 it's hard to see past Friday night
Tonight's the bonfire rally
But you're staying home instead because if you fail Algebra
Mom and dad will kill you dead
Trust me you'll squeak by and get a C
And you're still around to write this letter to me
You've got so much up ahead
You'll make new friends
You should see your kids and wife
And I'd end up saying have no fear
These are nowhere near the best years of your life
I guess I'll see you in the mirror
When you're a grown man
P.S. "go hug Aunt Rita every chance you can"
[3rd Chorus]
And oh you got so much going for you going right
But I know at 17 it's hard to see past Friday night
I wish you'd study Spanish
I wish you'd take a typing class
I wish you wouldn't worry, let it be
I'd say have a little faith and you'll see
If I could write a letter to me
To me
Brad Peisley Twitter @FOLLOW
Brad Paisleey Facebook
LIKE IT